AdvisorRoadmap™ Virtual Training Platform
Elevate Client Value. Grow Your Business. Be a Fiduciary.
"Wow…I can't believe you're giving all this away for $900! It's really WAY too cheap, but I'm glad I got in before you figured that out and raised the price to what it's actually worth." – Charles T.
<strong><div style="text-align: center; font-size: 30px; font-style: italic; color: #228b22;">Next Step - Join the AdvisorRoadmap™ Virtual Training Platform <br/><br/>Enroll Before Timer Hits 0 & Receive The Super Bonuses!</div></strong>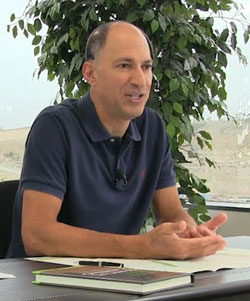 SUPER BONUS PACKAGE:
$2,460 Value for only $900!
1. The POWER SESSION with Bill Bachrach
Recorded 75 – 90 minute online consultation, personally, one-on-one, with Bill.
What's important to you?
What are your goals, personally and professionally?
Where are you now and where do you want to be in 15 crucial success metrics?
What are your obstacles?
What are your biggest and best opportunities?
Ideas to bridge the gap between where you are now and where you want to be so you finish 2019 strong!
*You get the recording of this meeting plus the documents used to facilitate this powerful coaching session.
In addition

for Joining the AdvisorRoadmap™ Virtual Training Platform before the timer hits 0, you'll also receive:
2. 25 Financial Road Maps shipped to your door to kick-start your results ($30 value)
3. Copy of the Values-Based Financial Planning Book ($30 value)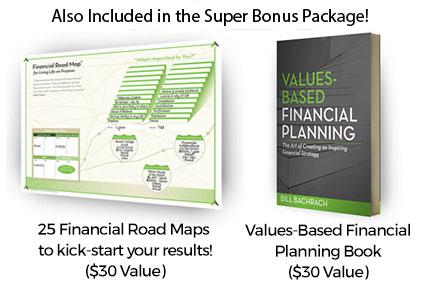 Enroll Now as an AdvisorRoadmap Member
AdvisorRoadmap™ with Super Bonuses
$2,460 Value for only $900!
Instant access to the entire Values-Based Financial Planning turn-key business model

Training courses, scripts, demonstrations, and interactive real-world practice

Interactive weekly lessons

Monthly Success Webinars with Bill Bachrach

Monthly Podcasts from industry experts

High-Value Article Vault

High-Content Video Vault

Keynote speech videos

Advisor 24/7 FAQ database

Daily motivation and accountability

Community of like-minded financial advisors

Advisor Forums

Preferred pricing on live workshops

Preferred pricing on accountability coaching
<strong><div style="text-align: center; font-size: 30px; font-style: italic; color: #228b22;">Enroll Before Timer Hits 0 & Receive The Super Bonuses!</div></strong>
<div class="ddio_countdown_wrap"></div>
<!-- Deadline Funnel --><script type="text/javascript" data-cfasync="false">function SendUrlToDeadlineFunnel(e){var r,t,c,a,h,n,o,A,i = "ABCDEFGHIJKLMNOPQRSTUVWXYZabcdefghijklmnopqrstuvwxyz0123456789+/=",d=0,l=0,s="",u=[];if(!e)return e;do r=e.charCodeAt(d++),t=e.charCodeAt(d++),c=e.charCodeAt(d++),A=r<<16|t<<8|c,a=A>>18&63,h=A>>12&63,n=A>>6&63,o=63&A,u[l++]=i.charAt(a)+i.charAt(h)+i.charAt(n)+i.charAt(o);while(d<e.length);s=u.join("");var C=e.length%3;var decoded = (C?s.slice(0,C-3):s)+"===".slice(C||3);decoded = decoded.replace("+", "-");decoded = decoded.replace("/", "_");return decoded;} var url = SendUrlToDeadlineFunnel(location.href); var parentUrlValue;try {parentUrlValue = window.parent.location.href;} catch(err) {if(err.name === "SecurityError") {parentUrlValue = document.referrer;}}var parentUrl = (parent !== window) ? ("/" + SendUrlToDeadlineFunnel(parentUrlValue)) : "";(function() {var s = document.createElement("script");s.type = "text/javascript";s.async = true;s.setAttribute("data-scriptid", "dfunifiedcode");s.src ="https://a.deadlinefunnel.com/unified/reactunified.bundle.js?userIdHash=eyJpdiI6IkpSeHR5a0w3cXRlaDNOMDh1YmZWaFE9PSIsInZhbHVlIjoidVpxTmZvSU4wRUF2ZjZtUktNQUsxQT09IiwibWFjIjoiZWMxYjIzZTEwNzZmNTg0YTEzNmYzNjBhYzYwMGEzZmU4NTcxMjcyOTRiZjRlMjdlZjRiOGI2ZDFmNmQxZWM0YyJ9&pageFromUrl="+url+"&parentPageFromUrl="+parentUrl;var s2 = document.getElementsByTagName("script")[0];s2.parentNode.insertBefore(s, s2);})();</script><!-- End Deadline Funnel -->