Learn How to Hit Your Personal and Professional Goals with Absolute Certainty
Excuses Don't Count… Results Rule!
Book by Anne Bachrach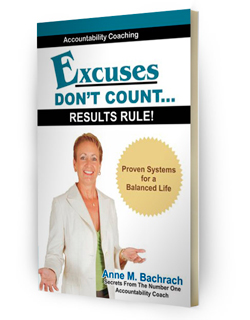 You know that feeling when you're on a roll? When things are really clicking and everything is going exactly the way you want it to go? Wouldn't it be great to have that feeling more often?
Through this book, you will learn how to hit your personal and professional goals with absolute certainty. You will discover how to enhance your overall quality of life by having a proven framework and easily implementable system for achieving your goals in the time-frame you want it.
You'll discover how to focus on your highest payoff actives that produce the biggest results in the shortest amount of time so that you can experience that feeling of true and total success and a fantastic quality of life.
You have the power to change your own destiny – so take the first step toward the future you deserve and live your dreams. Order your copies today.
$24.95 / book